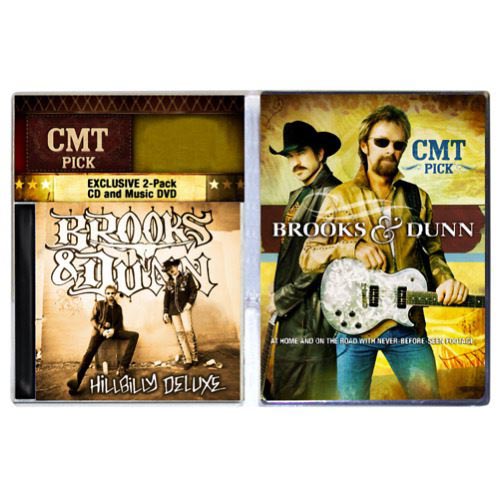 Song List

1. Play Something Country
2. She's About As Lonely As I'm Going To Let Her Get
3. My Heart's Not A Hotel
4. Whiskey Do My Talkin'
5. Hillbilly Deluxe
6. One More Roll Of The Dice
7. Just Another Neon Night
8. Believe
9. Building Bridges
10. Her West Was Wilder
11. I May Get Over You
12. She Likes To Get Out Of Town
13. Again

CMT Pick presents Superstars Brooks and Dunn.

This exclusive, special-edition DVD gives Brooks & Dunn fans unprecedented access into the crazy lives of country music's hottest musical match-up. CMT takes you on an intimate tour: from the peace and seclusion of their fabulous Nashville homes, to the loud, proud, backstage rowdiness that is a Brooks & Dunn concert tour.

This Limited Edition DVD Contains:

Star Pads: Brooks & Dunn

Every true fan wants more - and CMT's Katie Cook brings it on, with an insider's tour of these award-winning artists' private homes. This CMT special takes you through Kix's 500-acre farm and Ronnie's restored party barn, complete with recording studio. Plus - their toys, from horseback riding and skeet shooting to their awesome guitar collection. This is how two of country's most fun-loving entertainers really live - at home and on the range.

Behind-The-Scenes And On-The-Road With Brooks And Dunn

Brooks and Dunn's 2003 Neon Circus concert tour set a new bar for behind-the-scenes, on-the-road antics. Fortunately, Kix and Ronnie brought back never-before-seen home movies of it all - for your viewing pleasure. Sap on your All-Access Pass and get backstage for a look at life as only Brooks & Dunn know it.


$54.99